What A Fascinating Thing To See The Globe Coming To Life With Your Own Hands
This Luminous 3D Puzzle WonderGlobe is not only a classically sophisticated ornament but also a practical nightlight with a warm glow.
The WonderGlobe is perfect for a fun time with your family and friends.
Why The Puzzle Globe Is For You?
☑ Make Memories Together – laugh, build, and create unforgettable times of working together between your loved ones, friends, or your kids. It's time to get closer!
☑ Feel The Sense Of Fulfillment – Have fun building this set. It needs patience and dexterity, but also produces pleasure!
☑ The Charm Of Changing Scenery – Innovatively equipped with a 3x magnifying glass, turn the pulsator knob to observe every detail. Travel the world without leaving home!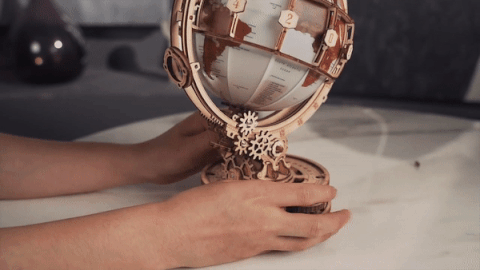 ☑ Unique Gift & Stylish Decor – A huge unique hands-on gift for any DIY lovers or any occasion like Christmas, Father's Day, Birthday. Packaging in premium craft box. Luxury interior decor for your room and office!
☑ Meditative Experience – building this set not only enhances you and your child's ability to plan and build things, but also develops attention and concentration skills!
☑ More Than A 3D Puzzle – Observe the Earth and understand longitude and latitude more intuitively.it is an educational toy!