This series of products is exclusively designed and launched by our company as a new Version for 2021, and will officially
on sale
on Nov 15.
300
pieces will be sold at the lowest price of
$36.95
, and it will back to
$49.99
after that. So buy it now if you really want!
A book nook (also bookshelf insert, book nook diorama,or book nook shelf insert) is meant to be placed on your bookshelf between the books to present a world that
literature inspires
. It is a stunning book lover gift that will decorate a bookshelf and will always
remind of the power of our imagination
. This is quite literally a
bookshelf art
.
A fully assembled, high quality, handmade miniAlley Bookshelf Insert, Booknook , Bookshelf alley. This is NOT a kit.

The Wizard AlleyWorld is little dioramas that capture a miniature mystical wizard shop that you can tuck among your books. This item is a perfect gift for friends and family that love reading or diorama.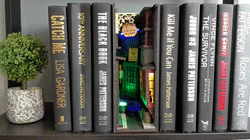 This item is a perfect gift for friends and family that love reading or diorama. The product is proudly made in the USA using high-quality material. Utilizing high-grade laser cutting and 3D printing technologies, we have successfully developed a process in which every component is created with exacting accuracy, all the while burnished with an artisan's touch. Each miniAlley requires extensive fabrication, hand painting, expert assembly and several layers of polishing to create the highest quality product for our clients. There are 2 bright LED lights that create the magical feeling when the miniBelly is sitting on the bookshelf. Treat yourself, your friends, and your family with this special gift. You can purchase the miniAlley as a base model or combination with many other add-ons to spice up the diorama.
The Wizard AlleyWorld gives its onlookers a mysterious illusion that the alley continues through the wall. How is this possible? The trick is the angled mirror placed at the end of the alley. But don't tell your friends and family that too early – let them figure it out and have their minds blown with this witchcraft 😉.
Product Details:

Handmade

Materials: wood, 3D printing, plastic, moss

Size: 8″H x 2.5″W x 6″D
Include the lights