You can't put a price on clean, healthy, "snow-white" looking teeth. Our Ultrasonic Tooth Cleaner has been shown to effortlessly clear plaque and remove stains, or your money back guaranteed.
Care for your teeth and achieve a sparkling smile.
Made of high-tech medical-grade alloy steel and anti-skid silicone, the Ultrasonic Tooth Cleaner is anti-rust, non-toxic, and convenient to hold. Clean your toughest teeth stains effortlessly whenever you want!

Perfect for anyone that hates spending time at the dentist

!
Multiple Stain Remover – Our 5-speed electric dental scaler is specially designed to remove the toughest stains, plaque, calculus/tartar, bacteria, and debris from your teeth and gums.
Adjustable 5 Gear Frequency – Vibrates up to 20,000 times per minute and allows you to choose the most comfortable speed according to your personal preference.
Safe Material & Waterproof – Made of food-grade silicone, PC, ABS, and 304 stainless steel with an IPX7 waterproof structure, making this device fully submergible and ultra-durable. 
HOW IT WORKS
After charging the Ultrasonic Tooth Cleaner with the USB cable, power on and apply to the crevices of your teeth. When cleaning, the tip should be positioned vertically. Do not press hard on the calculation or cut back and forth quickly. Simply hold the tip in a fixed position for 2-5 minutes, until the stain or stone is visibly detached and moved elsewhere. Repeat several times.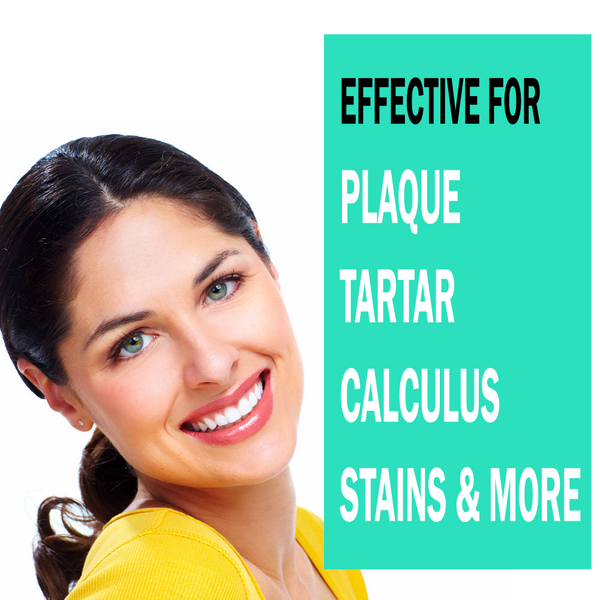 WHY DO I NEED THIS?
Everyone knows that poor oral hygiene is bad for long term health. If you're like everyone else, you have seen plaque and tartar build-up in the crevices of your teeth. This bacteria can be extremely difficult to remove, even with a toothbrush, dental floss, and dental tape.
When plaque builds up and is not completely removed, it slowly leads to more problems. If plaque stays on your teeth for a period of time, it will eventually harden into tartar. Tartar, also called calculus, forms below and above the gum line. It is rough and porous and can lead to receding gums and gum disease.
We all live very busy lives, and spending the whole day at the dentist is not always an option for us. The Ultrasonic Tooth Cleaner is designed for home use and is guaranteed to effortlessly remove your plaque and tartar, or your money back, no questions asked!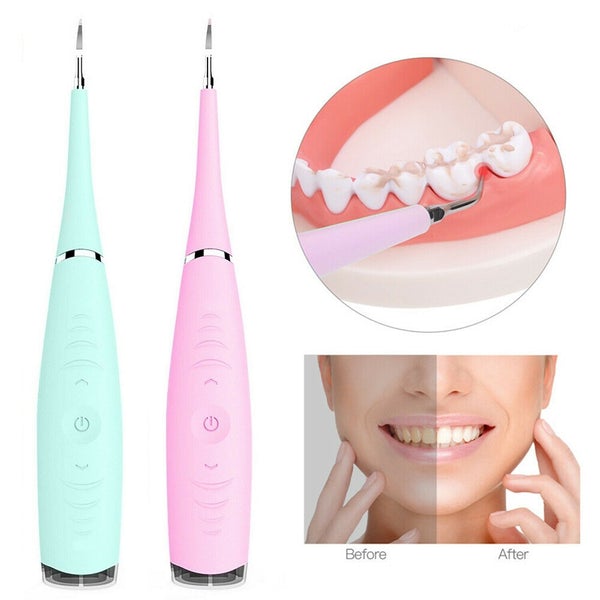 SEE A DIFFERENCE IN 1 WEEK
Look and feel the difference.
It's easy to see that "bad teeth" prevent a confident look, but have you ever wondered how good it feels to have wonderful bright shiny teeth? Especially a clean plaque-free smile from using the Ultrasonic Tooth Cleaner for just 2 minutes a day for 1 week.
Listen to the difference yourself.
"Looking back, I can't believe I was walking around with plaque built up all around the base of my teeth. My smile was disgusting, and it was starting to affect the people around me. I never have the time to go to the dentist so I started trying to floss and scrape away at the plaque myself, but nothing was working effectively. It wasn't until trying the Ultrasonic cleaner that I realized how easy it could be to clear my plaque. Now I can smile and laugh everywhere I go, and I feel better from the inside and out. Even my friends have noticed" -Jenny L. Savannah, GA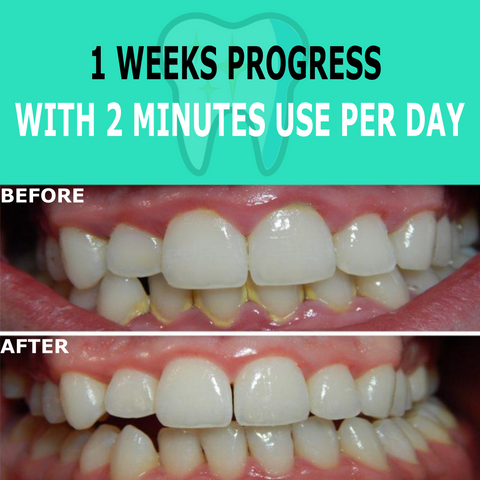 A LONG TERM FIX
Ultrasonic Tooth Cleaner can be a quick fix, but results may vary depending on your severity. Once you feel the difference, you will find yourself using our dental scaler less often because you have achieved that perfect plaque-free look.
This is a big mistake.
Every time we eat, debris is left behind on our teeth, so we recommend using our device at least once a week to prevent future plaque build-up. Luckily, our dental scaler is built to last a lifetime, and you can replace the scaler tip with fresh new ones, available here.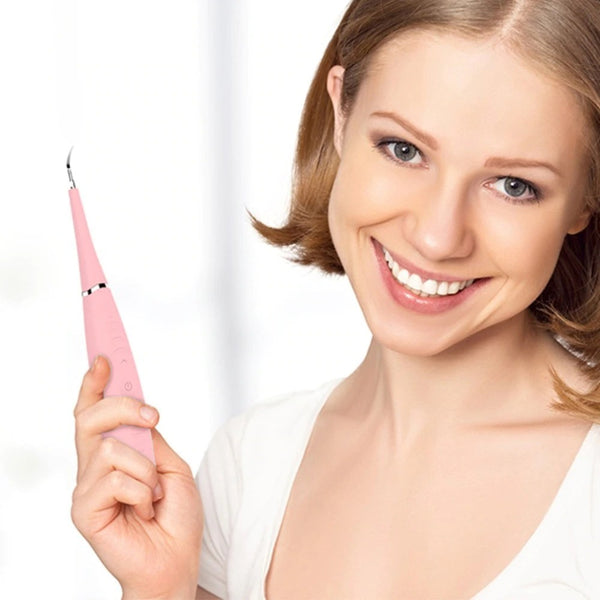 SEE WHAT OTHERS ARE SAYING
"Ultrasonic Tooth Cleaner has really helped clear the residue on the back of my teeth. As an older man, my teeth were most certainly not in their best condition. After using this thing for about a week I realized I had got my money's worth. In fact, my mouth feels so clean that I feel like I got a new set of teeth installed. The material is very good and is very simple to use. Won't be worrying about dentures any time soon.
I am tremendously impressed and satisfied with this dental scaler and recommend it to others."
-Huebert E. Omaha, NE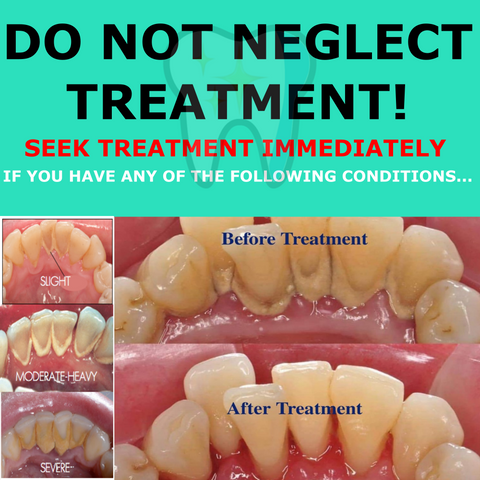 FREQUENTLY ASKED QUESTIONS
Question: How do I use this?
Answer: First, thoroughly brush your teeth. Next, power on and choose the preferred power setting. We recommend starting with a slower setting at first as this device is quite powerful. Press down with a gentle touch and lightly run it along with the outlines of the tooth where the calculus resides. Do not keep the device at the same spot for long periods at a time. Rather, keep in motion and run alongside the outline of the teeth. Gradually increase pressure accordingly to release hard-grown calculus. As the calculus releases, take occasional breaks, rinsing the mouth with water and spitting any calculus out. Slight bleeding at the gum may occur as chunks of plaque and calculus release. This is to be expected, especially if the inflammation has developed in the gums as a result of prolonged calculus development.
Question: Is this safe to use on teeth and dentures?
Answer: While being an extremely powerful tool, the Ultrasonic Tooth Cleaner has been designed to offer a non-damaging and thorough cleaning of the teeth and gum. The ultrasonic vibration technology allows the tool to loosen and remove plaque, dental calculus, and tough stains without harming the teeth enamel, as no hard manual scraping is being done.
Question: Is it painful to use on sensitive teeth?
Answer: The Ultrasonic Tooth Cleaner has been thoroughly tested and is deemed completely pain-free. Depending on the severity of your plaque and dental calculus, a slight pinch feeling might occur as the hard-grown calculus detaches from the teeth and gum. No clients have expressed any substantial discomfort using our product.
Question: Can I use this for my dog or cat?
Answer: We know that the pet dentist can be extremely expensive. The Ultrasonic Tooth Cleaner is not powerful enough to damage the enamel of human teeth. Canine and feline teeth are much stronger than ours, so there is no danger in using this device on your furry friends!
Question: Does it get hot when in use?
Answer: The Ultrasonic Tooth Cleaner can warm up slightly when used extensively, but the device won't reach temperatures that feel too hot to touch or grab.
Question: How do I clean it?
Answer: You can easily rinse the device using water and soap, as it's waterproof level IPX6, meaning it can resist high-pressure water sprays.