Meet the Ruggie Alarm Clock!
Oversleeping won't happen anymore if you own this revolutionary clock as its annoying sounds will never stop until you stand on this loud alarm clock for at least 5 seconds.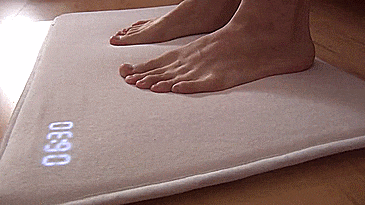 FEATURES
Touch Activated Countdown – Rise and Shine! Stand for 3 to 30 seconds until the countdown is over to stop its alarm. It will restart if you go back to bed!
Powerful Built-In Speakers – You'll never oversleep again, these speakers are as loud as a blender going off! Ranging from 90-120 decibels. (It's SUPER LOUD!)
Incredible Comfort – Enjoy early rising by stepping on an incredibly soft, slow rebounding memory foam padding. It feels as soft as a cloud.
Design that Forms Great Habits – Your new automatic wake-up response will be getting out of bed instead of reaching for the snooze!

This alarm clock has a customization alarm sound.

After standing for 5 seconds, the alarm will automatically turn off.
NOTES:
To change the alarm music:

Plugging in the USB cable at the back of the mat, then connect it with your computer.

You can customize your alarm music.

Requires 3 AAA batteries. (not included in the package)
PACKAGE INCLUDED