Decanter 
The Whiskey/wine decanter set, earth decanter with boat has an elegant, luxurious design that makes an impressive accent piece for the home interior & a conversation kick-starter for family & visitors.
✔️ Rustic Elegant Design
✔️ Handcrafted
✔️ Unique Looking
✔️ Ideal Gift
✔️ Non-toxic
✔️ High-Quality Material
✔️ Flavor Enhancing
Kick start a wonderful conversation with family and friends with a glass of punch from the earth decanter with boat. It's handcrafted, airblown, and brilliantly detailed with elaborate etching of a world map on its exterior and a shipwreck in its bottom interior finished with elegant woodwork for its holder, all by utilizing high-quality, durable materials.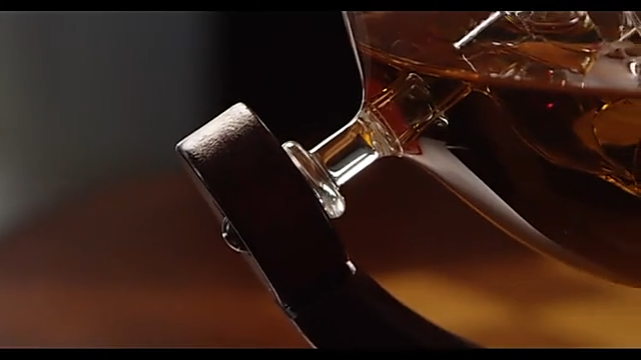 Filling in liquor and other beverages with this decanter is safe for its lead-free. It only elevates the taste of the most delectable alcohol of choice. Also, it has that luxurious, sophisticated look that will impress guests. In addition, it can be an ideal gift for someone on any occasion.
FEATURE(S):
PREMIUM CONSTRUCTION – This elegant decanter set is exquisitely handcrafted from the bottle with its glasses to its holder. Airblown and hand-molded high-quality thickened borosilicate glass endure high temperatures from constant drawing to direct heat and rigid woodwork for the mahogany varnished wood base for its whole elegant look.
LARGE CAPACITY – Designed for any beverage of choice. The bottle can hold up to 1000ml and the cocktail glasses of 300ml of liquid, whether it's alcohol, juice, spirit, booze, & many more.
ELEGANT ACCENT PIECE – Its whole structure has a smooth rustic classic feel in them from its cap down to its base that provides a luxurious touch when used as an accent piece in an interior. It will contribute a peaceful and definite atmosphere in a household that will impress guests.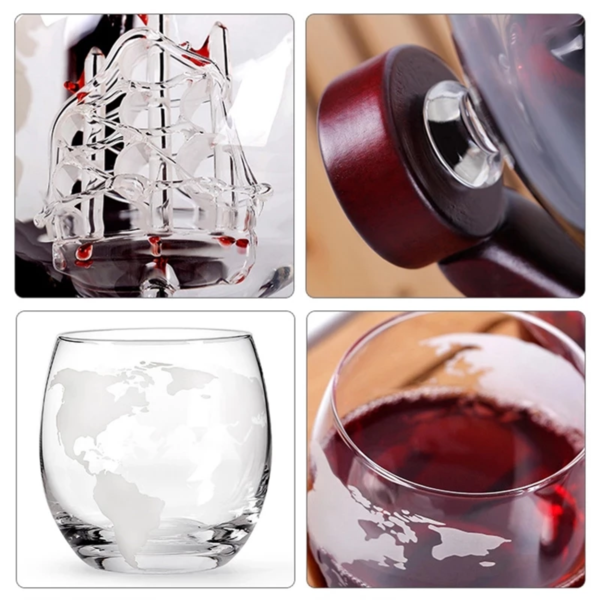 USER & ECO-FRIENDLY – Made use of ecological components that do not contribute to destroying the environment. The material used with this sophisticated work of art is Lead-free and non-toxic to secure the user's health, and welfare remains protected.
IDEAL GIFT – A perfect gift for family and friends. It has a charming and sensible design, whether during the Holidays, Birthday Parties, Valentine's Day, Father's Day, Weddings, bachelor's parties, and more.
SPECIFICATION(S):
Material: Borosilicate Glass, Pine Wood
Decanter: 9″ x 5″
Mouth Tip: 0.8″
Capacity: 1000ml
Base Height: 3″
Cocktail Glass: 3.5″ x 3.5″
Diameter: 3″
Capacity: 300ml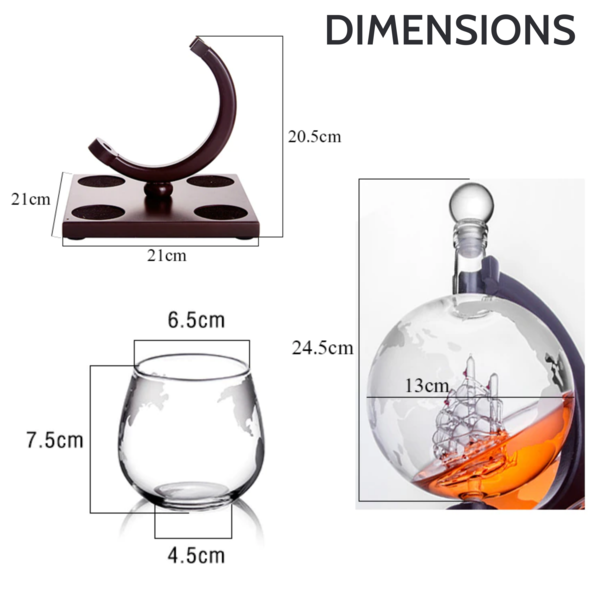 PACKAGE INCLUDE(S):
1 x Luxury Globe Whiskey Decanter Set