🌞🌱Efficient Red & Blue Blubs Combination: 39 red LEDs combined with 21 blue ones provide the most common spectrum of light, which provides better support for the entire growth cycle of indoor plants from seedling, germination to flowering and maturity.

🌞🌱Smart Cycle Memory Function: grow light offers the circular memory timer function with 3 options-3h/6h/12h, providing the flexibility for you to choose the right lighting time. When keeping power, it can automatically turn on and off every day according to your settings.

🌞🌱3 Switch Options & 6 Dimmable Modes: The three-head grow lights have 3 switch modes and 6 dimmable options which means you can adjust the appropriate amount of light according to the different growth stages of the plant to promote its healthy growth.

🌞🌱Flexible Goose-neck: The plant light is equipped with sturdy clips to provide a firm and stable base support. The 360-degree goose-neck can easily adjust the distance and angle to enlarge the illumination area.

🌞🌱Widely Used: grow light is ideal for indoor plant vegetables and flowers at your home or your office.

Why do plants need the plant lamp?
Most plants need sunlight during their growth. Light is very important for plants, no matter which phase of growth since light is indispensable for photosynthesis.

When the plants get less light, it will become weak, sick and even dying.

The full-spectrum plant lamp can not only deliver the light that plants need for growth but can also accelerate plant growth, shorten the growth cycle.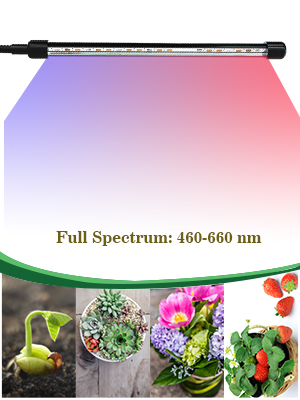 Why choose grow light bulbs?
grow lights accelerates the growth of various types of plants in every stage of development.
✓ Full spectrum LED

✓ 360° Flexible Gooseneck

✓ Sturdy Clamp

✓ Auto On/Off Timer

✓ 3 Light Modes

✓ 3 Switch Modes

✓ 6 Dimmable Options
Sensible Design, 21 Blue & 39 Red LED to Fuel the Growth of Your Plants
High quality full spectrum LED chips, suitable for all stages of the plants.
Blue Light: Blue wavelength is a necessary wave for chlorophyll , good for the photosynthesis, best for promoting the stem & leaf.
Red Light: Red wavelength is essential to a plant's early life for seed germination, root growth, and bulb development. It also makes the plant yield better results when flowering.
Mixed Blue&Red Light: The combination of red and blue spectra can accelerate plant growth and increase yield.
3 Light Modes

Each arm of lamp can be turn on/off individually, not only work for single pot, also suitable for multiple plants. You can select the light mode as your needs.

6 Diammble Modes

The light brightness be divide to 6 mode from 0% to 100% to meet different stages of plant-growing needs.

Flexible Gooseneck & Sturdy Clamp

360 degree rotation and sturdy clamp give more convenient to adjust the angle between the lamp and indoor plants.

Smart Timer Setting

Auto ON/OFF setting, not only can set it up for lighting every 3/6/9 Hrs, but it is also no more manually operation everyday.

Grow Light for Indoor Plant
Makes indoor gardening faster and easier.