Skaters, we believe that no matter how old you are, the joy of rollerblading never goes away! Our skates have a fun, funky flavor that stands out from the crowd. Our skates celebrate girls and all they can be!  Our Skateboard products are made from the highest quality materials and are rigorously tested so you know they will look great and last for years to come.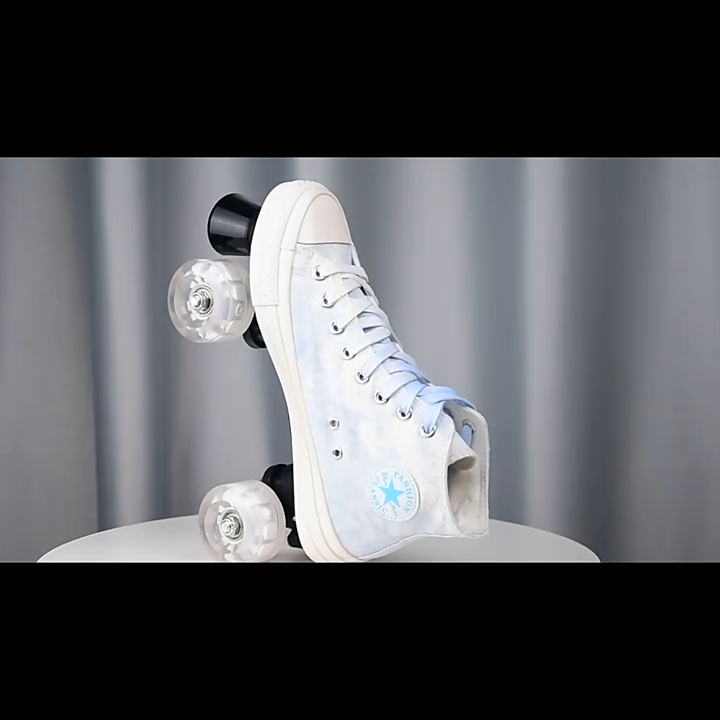 Our skates are the perfect children and adult roller skates. The unique, fun and vibrant colors will make you stand out in the crowd whether you are skating outside or in the rink. The high quality materials used in the inline skates give your feet the comfort and support you need. These skates are recommended for ages 6 and up. Check Size Chart – Size is based on girls shoe sizes.
Specification:
Wheel type: double wheel
Upper material: cowhide leather, suede, synthetic leather, PVC
Sole Material: Beef Tendon Sole
Wheel material: PU wheel
Size Chart:
Size

US Men

US Women

E.U.

Root Length




(cm)

11C

11C

28

17

12C

12C

29

18

12.5C

12.5C

30

18.5

13C

13C

31

19

1.0

2.5

32

20

1.5

3.0

33

20.5

2.5

4.0

34

21.5

3.5

5.0

35

22.5

4.0

5.5

36

23

4.5

6.0

37

23.5

5.5

7.0

38

24

6.5

8.0

39

24.5

7.0

8.5

40

25

8.0

9.5

41

26

8.5

10.0

42

26.5

9.5

11.0

43

27.5

10.0

11.5

44

28

11.0

12.5

45

29

12.0

13.5

46

30

12.5

14.0

47

30.5

13.5

15.0

48

31.5

14.5

16.0

49

32.5
【Maintenance of roller skates】
Frequently take out the inner cover of the shoe and wash it to prevent odor and prevent the growth of bacteria.

The wheels on the left and right sides are frequently changed to make the wheels of inline skates more durable.

Avoid sliding on rough roads, which can prolong the service life of wheels and bearings.

Do not replace wheels or bearings individually, as this will reduce the stability of sliding.

If the bearing has been used for a long time and it is not smooth when sliding, you can remove the bearing and soak it in the "degreasing oil" for about half an hour to clean off the impurities in the bearing, and then spray it with engine oil or bearing oil. This can extend the life of the bearing.

When the product is not in use, it should be stored in a dry place without direct sunlight. This has a certain effect on the rust of the accessories and the aging of the product.
【Suitable for beginners】
These roller skates use controllable high-top shoes to ensure optimal safety, and high-quality shoelaces provide maximum protection to ensure comfortable and safe feet.
The perfect fit and a high degree of comfort can make your feet feel comfortable during use.
There is a support column in the front, which is very suitable for beginners.
It can better maintain control and brake quickly. This structure ensures that the support will not be damaged.